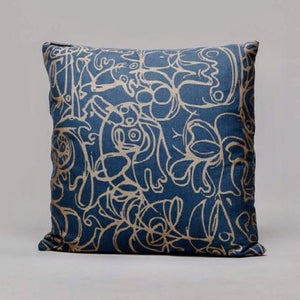 ASGER JORN | curated by DOMICILECULTURE
Cushion x Herringbone Edition Dark Blue fabric Camel artwork
Sale price Price $215.00 Regular price Unit price / per
Tax included.
Shipping
calculated at checkout.
Artwork by Asger Jorn (1914-1973)
Dark Blue fabric with Camel artwork 
Size
: 50cm x 50cm
Colour
No.: 9
Quality: Jacquard 
Composition: 80%Cotton · 20%Wool 
Weight: Approx. 386 g/m2
Fabrics: Made in England.
Products: Handmade in Denmark
Filling: Handmade in Denmark
Mixture of European duck feathers & down,
90% feathers & 10% down. 60% new duck feathers & 40% recycled duck feathers.
⋯
Made-to-order · 1 to 2 weeks production. Made in Denmark
The drawing Macbeth is characteristic in so far as myriads of figures spread across the whole picture plane. The drawing was probably intended as a sketch for a painting & was executed during a stay on the North Sea coast at Nr. Lyngby during the summer of 1942 where Asger Jorn had rented a small fisherman's cottage together with his artist colleague Ejler Bille. The motif expresses spontaneity, playfulness, experiment, all of which are significant themes in the works of Asger Jorn.
⋯ 
"Art & handwriting are the same. An image is written & handwriting is images. There is handwriting, a graphic element, in every image just as there is an image in every piece of handwriting. The border between art & handwriting is blurred in origin. 
Everything is a symbol of something."
"The Prophetic Harps," 1944 


Quote by Asger Jorn (1914·1973)