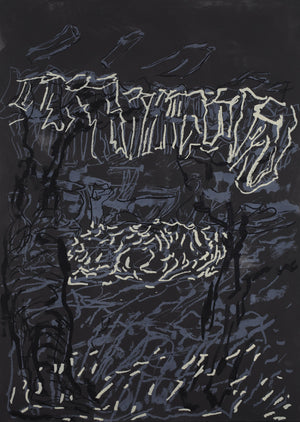 PER KIRKEBY | curated by DOMICILECULTURE
BLANKET PKP-09-002a x Artwork by Per Kirkeby (2009)
Sale price Price $369.00 Regular price Unit price / per
Tax included.
Shipping
calculated at checkout.
BLANKET PKP-09-002a Artwork by Per Kirkeby (2009) 
In the winter of 2009 the artist Per Kirkeby (1938-2018) made a series of serigraphs titled Hansen prints. 
The prints were 
produced in the workshop of silk screen printer Jørgen Hansen, who has been a source of inspiration as well as sparring partner
for Per Kirkeby in his work with this series. 
The serigraphs were originally inspired by Kirkeby's 'blackboards' with their lucid simplicity & straightforward colour palette. 
Based on one of the Hansen prints an exclusive blanket has been made by DOMICILECULTURE® in collaboration with Ekely in
Copenhagen.
The blankets are woven & handmade in England, produced in a limited number of 75. 
SPECIFICATION Composition
 · 66% wool 34% cotton 
Size
· 130cm x 200cm 
Colours
· Dark Navy · Black · Petrol Blue & Ivory