Handcrafted /rɪˈfaɪn.mənt/
/ˈ k ʌ l tʃ ər/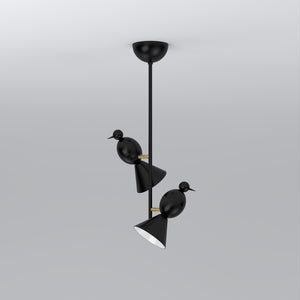 ATELIER ARETI | curated by EYEDS
Alouette 004 Ceiling Light 2 Birds ʻI'
Sale price Price $1,261.00 Regular price Unit price / per
Tax included.
Shipping
calculated at checkout.
Solid Tables 225OF
Explore a variety of solid table designs in this collection —create individual timeless configurations to fit your personal choice for optimal functionality.
Shapes Circle, Half-Circle, Triangle, Square
Material Solid Oak, Marble
ATELIER ARETI
View | Shop
ʻSocial Pattern' | The artwork was first carried out as a mural in connection with Michael Kvium's exhibition "SALIGIA" at 'Dunkers kulturhus' in Helsingborg, Sweden (2015). The ʻSocial Pattern' colour combo was originally made with Yellow artwork on Black background.
ʻSocial Pattern' || The Fabric
The multidimensional luxury fabric design by London design studio DOMICILECULTURE was introduced in connection with Kvium's exhibition "Cirkus Europa" at ARKEN, Museum of Contemporary Art in Copenhagen, Denmark (2017). 'Social Pattern' was a continuous theme that almost acted as a counterpart to the exhibition's single human figures, as the amorphous, bodily figures in 'Social Pattern' are strongly connected.
View | Shop
KEEP SAFE | STAY CREATIVE
We're an interdisciplinary ideas, branding, design and production agency.
Our objective is to evolve cultural imitationalism, formalism, and emotionalism —through meaningful product engineering.
Alongside our innovational interest to uncover, explore and maintain centuries old artisans traditions |
E Y E D S brings an imaginative vision to life with meticulously detailed design concepts and artisans philosophy productions.